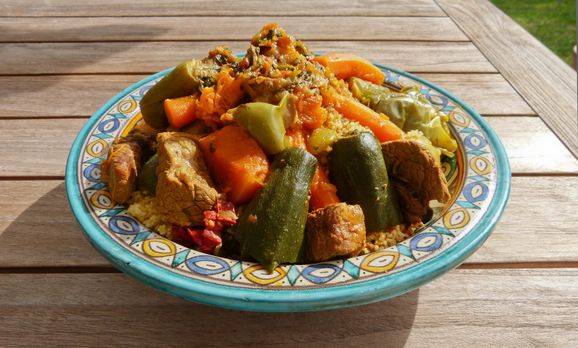 Couscous

for 4 people


ingredients:

- 4 pieces of meat (chicken, beef, lamb) about 100g per person.
- 4 medium sized potatoes.
- 2 large carrots
- 1 big ognion
- 1 large tomato
- 1 medium sized courgette
- 1 sweet pepper
- Salt and pepper
- Ras EL hanout (arabic spice)
- Curcuma (Indian spice)
- 1 kg Semolina medium grain
- 1 box of chick peas

Start by peeling the potatoes then cut them in half lengthwise.
Peel the carrots then cut them in length and then in half.
Peel and cut the ognion into strips lengthwise.
Cut the zucchini in length and then into several pieces about the size of the cut potatoes
Cut the pepper into pieces identical to the potatoes.
Cut the tomato into small pieces it does not matter it will melt in the sauce.


Let's start with semolina, pour it into a large dish, add water on it, stirring with your hands if necessary,
To thoroughly moisten the semolina, then place it in the colander of the couscoussier. Let's leave it at the moment

Take the largest part of the couscoussier, put in the oil about 1/2 glass of water, add the salt about a little less 1/2 teaspoon of salt.
- put the pieces of meat in it, stir the whole thing so that the meat is half cooked, add the ognion, the tomato, to mix everything to mix well.
- Then take a coffee spoon of "ras el hnout" and turmeric "these spices are essential to give all its taste to the dish. Stir the whole, added water
So that everything is covered with water, let simmer about 15 minutes
- Add the potatoes, carrots, pepper and zucchini in the whole, add water if necessary so that everything is covered by the sauce.
- For chickpeas, wash them first, pour them in a saucepan and with a ladle take sauce to make them warmed not cook, canned
They are already. Once warm up the side meters.
- Then add over the semolina strainer on top and closed with the lid.

Here is the biggest work is done, there is no more left to cook; To know if the cooking is good, stitched a carrot or a potato, you must
That the vegetable is soft, usually the carrots have a longer cooking, proud you there.

Bonne Appétit !
Edited by Loco91, 09 July 2017 - 06:35 PM.